JOIN US TO LEARN MORE ABOUT THE PECS COMMUNICATION SYSTEM AND HOW TO IMPLEMENT IT!
Easterseals Outreach Program will host this intensive 13-hour interactive workshop. The dynamic and enthusiastic Jo-Anne Matteo from PECS will present the workshop, which is designed to teach educational and caregiver teams the theory and protocol for the Picture Exchange Communication System® (PECS®). PECS is an evidence-based practice based on Applied Behavior Analysis, typical language development, and B.F. Skinner's Verbal Behavior.
What you will learn:
The key Pyramid components to designing effective educational environments
Strategies to create an abundance of opportunities for communication
The relationship between PECS and traditional communication training approaches
How to implement all six phases of PECS with target individuals using a behavior analytic orientation
The criteria for transitioning from PECS to other communication modalities
For more detailed training information, please visit the PECS website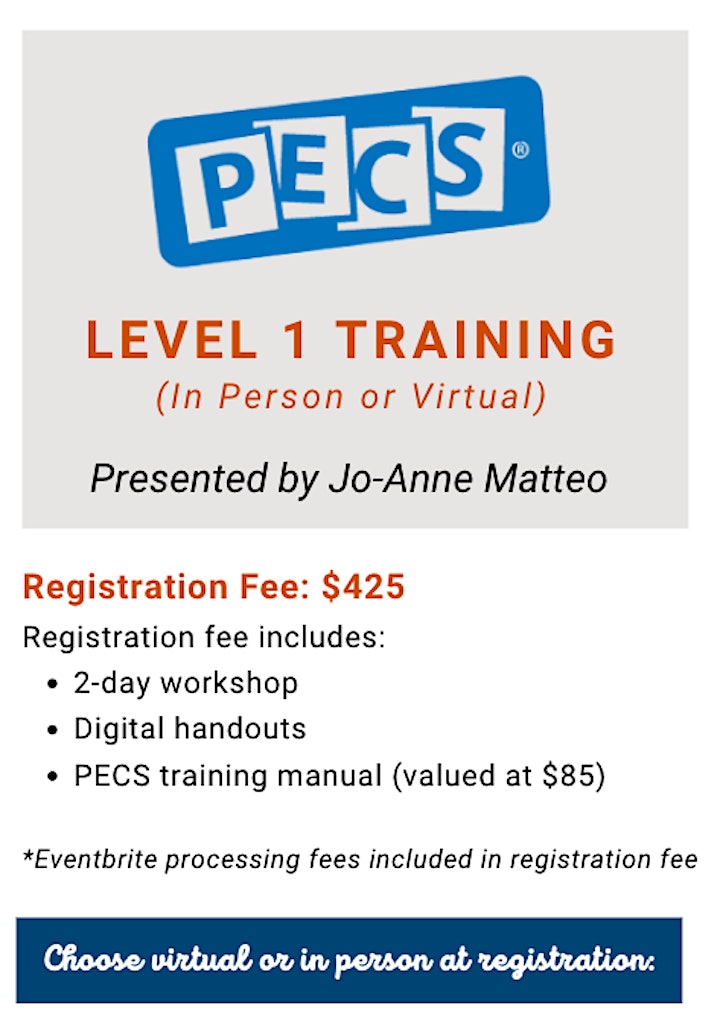 Please note: The training is from 8:00 a.m. to 4:00 p.m. both days. Full attendance is required to receive a certificate.
Virtual Tickets: If you register for a virtual ticket less than 2 weeks prior to the event, it may not be possible to get your PECS manual and handouts mailed to you before the training.
The Founders Room is on the 2nd Floor above the cafeteria in the David B. Burks American Heritage Buildling. Visitor Parking is available in front and on the side of the building.
If you need access to Closed Captioning or any other accommodations, please make that request by contacting us by email at outreachprogram@eastersealsar.com as soon as possible.