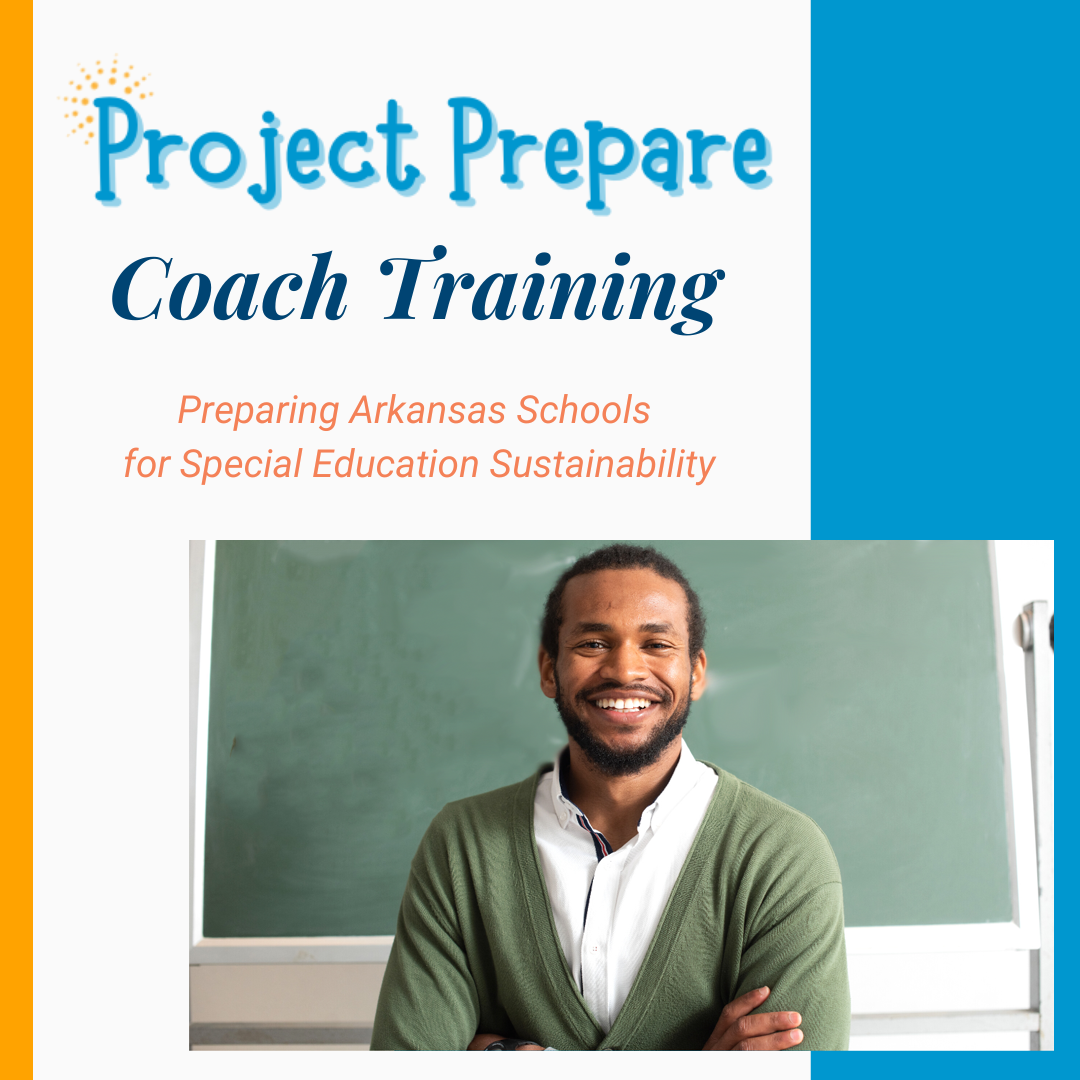 THE GOAL

of Project Prepare is to

increase student achievement

by providing training and coaching on

evidence-based

,

high-leverage

, and

inclusive practices

to educators across our state.
Resources include on-demand training to support a wide range of student populations. In addition, task analyses, fidelity checklists, TESS alignments, and templates are available for each topic. As Project Prepare grows through the 22-23 school year, the team will partner with R.I.S.E. experts in Arkansas to create trainings to support literacy instruction for students with complex learning needs.
What is the Project Prepare Coach Training Program?
Coach Training is a program designed for trainees ready to implement Project Prepare at a systems level in their district. This four-part series provides trainees with the tools and supports needed to create a sustainable system that utilizes best practices for students with disabilities.
Coach Training Community of Practice
March 8
April 12
May 10
Those who attend coach training are automatically signed up for our administrator community of practice. Our community of practice brings administrators together to ask questions, problem-solve, and build community. Our community of practice is held monthly during the school year from 3:00-4:00 pm CST.
Comments from our partners in education:
"I loved the presentation by Easterseals. They shared some great resources that I can take back to my teachers."
"These topics support me in promoting student confidence and independence."
"As a general classroom teacher, I did not know what a self-contained room should look like. I didn't know what a resource room should look like. I knew what a general ed classroom should look like. The resources have allowed me to know what I'm looking for when I go in, the videos on the website (modules every month) have allowed our team to go in and know what we're looking for, what the classroom teacher should set up, what the paras should be doing. The resources are fantastic!"
"This training will help me be more intentional in making connections with students."
"I learned about specific assistive technologies that I was not familiar with, and that could be of great benefit to some of our students."
"Great training. The ladies were very knowledgeable and able to present the information and make it useful with immediate implementation in the classroom!"